Electronics For You
September 2021
Vol No. 53 Issue No. 9
Now on Newsstands !!!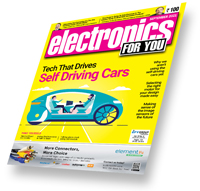 Click here for full details...
Technology
THE FUTURE: Why We Aren't Using Self-Driving Cars Yet

Technology
INTERVIEW: "Our Vision Is To Build A More Affordable And Safer Future of Mobility For Emerging Markets And Driverless Taxis" — Gagandeep Reehal and Gursimran Kalra, Co-founders, Minus Zero


Technology
CAREER: How To Build Your Career Amidst The Automotive Revolution


Technology
INTERVIEW: "Autonomous Driving Tech Is A Binary Problem, Solving 99.9 Percent Means That The Problem Has Not Been Solved" — Dr Rahul Kala, IIIT, Allahabad


Technology
TRENDS: Making Sense Of The Image Sensors Of The Future

and lots more...