Electronics For You
October 2022
Vol No. 54 Issue No. 10
Now on Newsstands !!!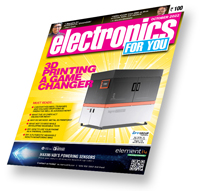 Click here for full details...
Technology
INNOVATION: 3D Printing Emerging As Game-Changer In Many Industries

Technology
INNOVATION: Why Do We Need Metal 3D Printers?


Technology
INTERVIEW: "Machine Vision For Object Manipulation Had To Be Treated Differently" — Gokul N.A. And Nikhil Ramaswamy, Co-founders, CynLr


Technology
SUCCESS: Can Earthquakes, Tsunamis, And Volcano Eruptions Be Predicted Well In Advance Now?


Technology
TRENDS: How Lidar Is Enabling Autonomous Drones

and lots more...