Electronics For You
October 2021
Vol No. 53 Issue No. 10
Now on Newsstands !!!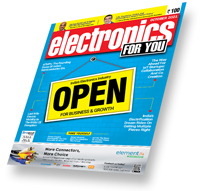 Click here for full details...
Technology
TRENDS: Indiaís Electrification Dream Rides On Getting Multiple Pieces Right

Technology
CAREER: Five Rís For The Future Of Mobility: Reimagine, Refocus, Reskill, Rebuild, Reuse


Technology
TRENDS: Last Mile Electric Mobility In The Midst of Disruption


Technology
TRENDS: Connected Mobility Adoption: Advances And Challenges


Design
SYSTEMS: Impact Of Transforming Changes In Vehicle Architecture

and lots more...