Electronics For You
October 2019
Vol No. 51 Issue No. 10
Now on Newsstands !!!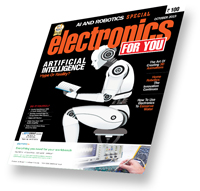 Click here for full details...
ARTIFICIAL INTELLIGENCE
AI And Robotics: Hype Or Reality?

SMART WORLD
The Future of Hiring


SMART WORLD
Smart Water Management


SMART WORLD
RFID PCB Tags Creating and Protecting Value


SMART WORLD
"Blockchain needs to be a part of a larger network" — Vivek Mahendra, enterprise architect and chief platform officer, CallHealth; and Parag Jain, founder, ThynkBlynk

and lots more...